The public has a new role in effort to identify abuse on the landscape and encourage proper use
STATEWIDE – Idaho continues to burst at the seams in many locations as the ever-growing state brings in new residents eager to join long-time Idahoans in enjoying the state's recreation opportunities, as well as visitors excited to spend their summer vacation in the Gem State.

Recreate Responsibly Idaho (RRI) partners have worked for several years to inform and remind recreationists statewide about best practices when it comes to putting out campfires, fire safety in general, ATV, UTV and Off-Highway vehicle use, proper etiquette at boat ramps, water and lifejacket safety, minding your wake on lakes, rivers and reservoirs, and more. These efforts empower individuals to recreate responsibly with the support of Idaho businesses, outdoor and conservation organizations, government agencies, and all who love Idaho.

Despite these efforts, recreation abuse still occurs, be it leaving trash and human waste, creating unauthorized trails that damage landscapes, or in some of the most catastrophic cases, campers causing large-scale wildfires by leaving a campfire unattended.

New this season: State agencies such as the Idaho Department of Lands are asking for the public's help in identifying abuse to encourage proper use and help find solutions. Recreate Responsibly Idaho's Show and Tell Summer campaign will provide an easy way for the public to simply take a picture of an issue, use a QR code to upload the image, and provide a location. Pictures of recreating the right way are also encouraged as it helps remind people to recreate responsibly.

View and download photos and videos submitted so far this week for use by the media and public

"Finding trash left in your favorite spot or landscape damage is not something most of us want to deal with during our recreation time outdoors, but we also don't want to simply do nothing," said Robbie Johnson, Recreate Responsibly Idaho Coordinator with the Idaho Department of Lands. "Taking a picture, or even a video, and sending it to Recreate Responsibly Idaho once you get to cell service gives you a quick and easy way to share what you see so we can show people why abuse hurts all of us."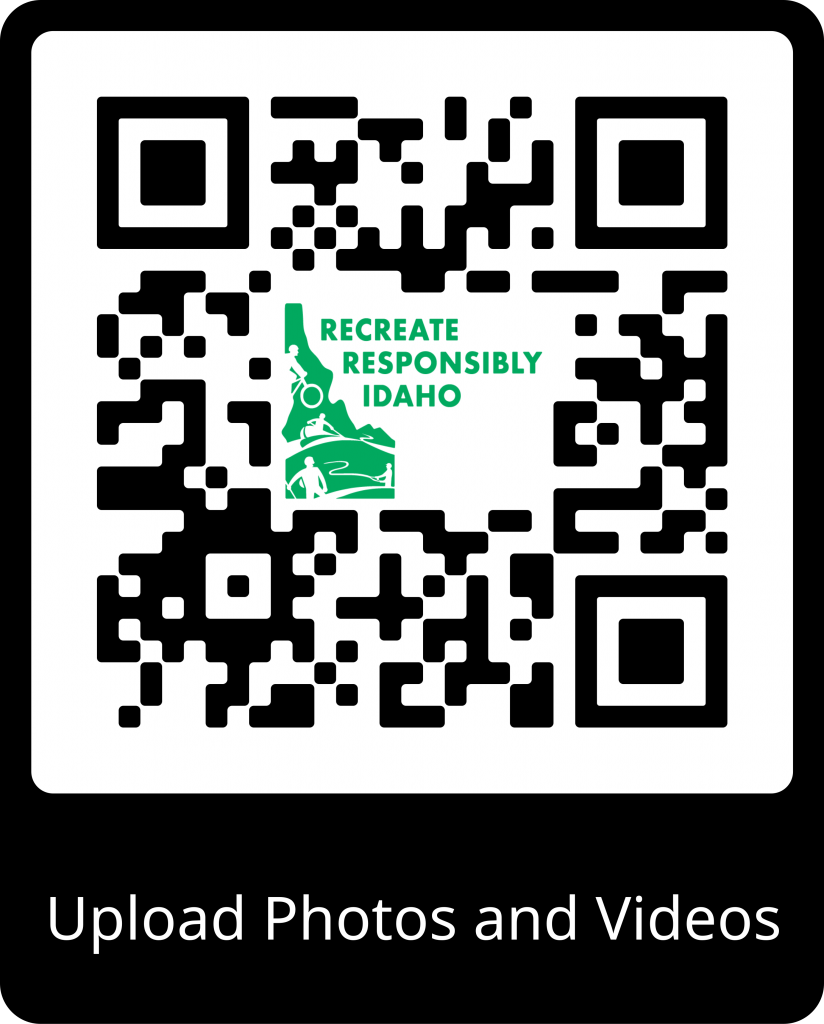 How to participate:
Photos and videos can also be posted to social media using the hashtag #RecreateResponsiblyIdaho or by tagging RRI's Instagram and Facebook profiles.
Why RRI: Beginning in March 2020, with the outbreak of the COVID-19 pandemic, record numbers of in-state residents and out-of-state tourists flocked to Idaho to go hiking, biking, ATV and UTV riding, whitewater rafting, fishing, camping, hunting, and participate in other outdoor recreation opportunities. The increase put strain on recreation infrastructure and land management staff. Continued population growth and ongoing pressure on outdoor recreation facilities in Idaho is why it is critical to recreate responsibly.
What's at stake: In the last several years many incidents of poor behavior on public lands have been observed such as dumping trash, campfires left burning, and poor boating and trail use etiquette. This could decrease the enjoyment of the outdoors, lead to closures, or cause a wildfire that destroys the landscape.
RRI is a key source of proactive information for recreationists to help preserve and protect Idaho's unique outdoor recreation opportunities for today and tomorrow.
Media Contact
Robbie Johnson
Recreate Responsibly Idaho Coordinator
Idaho Department of Lands Public Information Officer
208-908-1786
rjohnson@idl.idaho.gov
recreateresponsibly@idl.idaho.gov